Plein Air Miniatures
Crista Pisano, who is based in Nyack, NY, is one of the gallery's more recent "stable" additions and has, in the past few years, established quite a star national reputation for her small, beautifully crafted plein air paintings. She was most recently featured as one of four artists in our annual The Luminous Landscape National Invitational. Her work on view in our holdings gallery draws from recent trips to the Adirondacks and Hudson Valley.
Pisano began painting under the instruction of John Phillip Osborne at the Ridgewood Art Institute in Ridgewood, NJ. She graduated from the Lyme Academy College of Fine Arts and earned a Master Degree of Fine arts Painting from the New York Academy Graduate School of Figurative Art. Her on location and studio work are partly influenced by the Hudson River School. She also loves the Macchiaioli, a group of Italian Painters active in Tuscany in the second half of the Nineteenth Century. She is very active in the national plein air "circuit" - participating in regional paint-outs and exhibitions during the year.
Christa's prices for work in our holdings range from $675 to $900. All work is beautifully framed. Larger photos of her work can be sent, by request, from the gallery.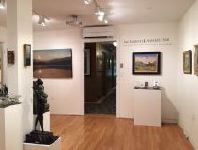 Avalanche Pass, oil on panel, 3.25 x 5.25 inches
Upstate Field, oil on panel, 2 x 6 inches
Blue & Green (Near Whiteface), oil on panel,
4.25 x 4.125 inches
Summer Field, oil on panel, 4 x 6 inches
Mountains & Field, oil on panel, 6 x 6 inches
Green & Gold, oil on panel, 3.75 x 5.25 inches
Adirondack Trees, oil on panel, 6.875 x 3.75 inches
(Glare shows up on upper left corner.)
Park Trees, oil on panel, 2.25 x 5.25 inches. SOLD.
(We will reshoot this image due to unwanted glare)
Whiteface Mt. after the Rain, oil on panel, 4.25 x 4.25 inches
Please click on an image below to display a larger version above. Paintings already sold are maked SOLD.